Peoplesoft Upgrade Manager (PUM) Project
Did you know? UCPath is behind the times, currently running version 17 of the Oracle PeopleSoft Human Capital Management (HCM) system. This was the most recent version available at the time of UCPath's initial launch in 2016, and a decision was made to hold on any upgrades until all locations were live. PeopleSoft is now sitting at version 37.
UCPath is over 20 versions behind the current Oracle PeoplesSoft System Version 37 and as a result improved efficiencies and functionality cannot be implemented. In April 2021, UCPC and UCOP launched the system-wide UCPath PUM project to rectify this situation. All locations, including UC San Diego Campus and UC San Diego Health, are collaborating with UCPC on this upgrade effort.
The December upgrade will:
Improve stability, reducing support efforts
Address compliance gaps that are being managed manually
Support the Affordable Care Act (ACA), eliminating manual UCPath processes
Reduce security risks, increasing personally identifiable information (PII) data protections
Prepare UC to modernize the system for future enhancements
The technical upgrade to version 37 will be implemented Fall 2021. This initial upgrade is expected to be completed in December 2021.

Going forward, regularly scheduled UCPath upgrades will take place every 6-12 months.
The project is currently underway. The UCPath Project Team has completed their initial fit/gap assessment and started the functional design and building phase in collaboration with all UC locations and Centers of Excellence (COEs). UC San Diego is working with the UCPC teams to verify and validate the impact of the project at our location.
The UC San Diego cross-functional PUM support team, in collaboration with UCPC, is involved with both System Integration Testing (SIT) and User Acceptance Testing (UAT). Per the initial assessment of the December 2021 upgrade, there will be minimal impacts on UC San Diego ODS and external systems (such as timekeeping, general ledger, etc.).
This project is owned by UCPC and UCOP. Your UC San Diego cross-functional PUM support team is dedicated to transparency and understands that change can be challenging and difficult. Everyone is committed to providing up-to-date information as UCPC and UCOP transition UCPath to the newest version of Oracle PeopleSoft HCM. We are currently in the early stages of this project, but check back often for more updates and consider subscribing to our UCPath biweekly update email.
According to the initial assessment, this upgrade will have minimal impact on:
Functionality and interface updates, resulting in little-to-no business process changes.
Changes in WFA (HR Templates), Payroll, Benefits, and General Ledger.
Self-service functionality for employees and managers.
Cognos Reports and the ODS.
Security provisioning.
The SIT and UAT testing will provide the input needed to confirm or modify this initial impact assessment. Further information will be posted as it becomes available.
The upgrade planned for Fall 2022 will include the deployment of Fluid, the new and modern PeopleSoft user interface. This simple and intuitive UI design benefits everyone, from transactors to casual self-service users. Although the adoption of fluid comes with a learning curve, the benefits of this new user interface design will be substantial. It allows for an improved user experience, responsive mobile flexibility for your devices, and simple customizable navigation. More information will be available after the first of the year, with demos and training opportunities tentatively scheduled for summer/fall 2022.
PUM Project Cutover Preparation
Cutover will take place over a weekend starting at noon on Friday 12/10 and the system will be available again at 6 am on Monday 12/13.

The BW2 Employee Data Change deadline moved to 3 pm 12/9 and all other transactions must stop prior to 12 pm on 12/10 when UCPath goes down for the cutover.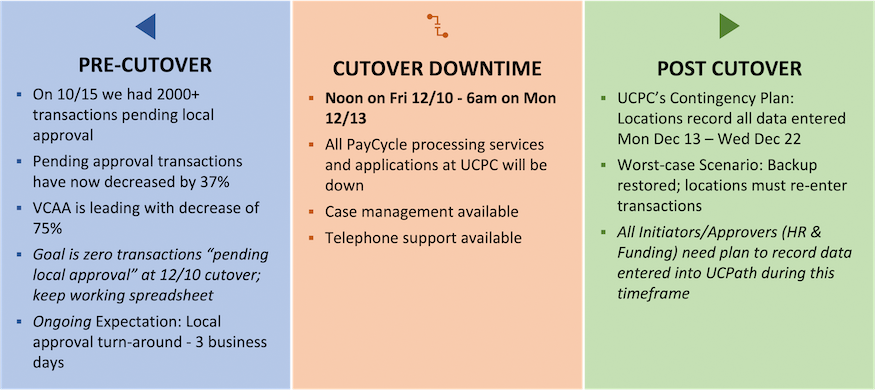 Transactors need to plan ahead, note deadline dates and mark their calendars.
UCPath initiators should work closely with approvers to ensure current transactions are locally approved in a timely manner and by all deadline dates. If transactions are submitted after the cutoff date or are not locally approved by the cutoff date – these pending transactions might require resubmission. If that is the case there will likely not be a record of these previously submitted transactions. We recommend you make note of the Transaction ID#s and details for any transactions entered within the 5 business days prior to cutoff date; check for these transactions on Monday, Dec 13 after cutover is complete.
YES! Currently, there are a huge number of "old" UCPath transactions (originated prior to 10/15/21) in a "pending approval" status. These transactions should be locally approved or canceled. VC Area Contacts were given a report of 'transactions pending approval' to distribute to applicable departments. Department HR and Funding Approvers should determine if the transactions are still valid by reviewing them in UCPath and taking one of the following actions:
VALID - Click APPROVE
NOT VALID - Type "Abandoned transaction" in UCPath Approver Comment box and click DENY
For details view UCPath Upgrade – Guidance & Instructions for Department Transactors.
The planned downtime is minimal. UCPath will go down at noon on Friday, Dec 10th. The system is scheduled to be back up at 6 am on Monday, Dec 13th. During this time there will be no access to UCPath.
PayPath and Fund Entry transactions must be locally approved by 3 pm on Thursday, Dec 9th to ensure their inclusion in the PUM Upgrade.
UCPC has stated that any transactions approved locally by Dec 9th and still pending at UCPC will remain and be processed Dec 13 or after. However, we recommend when possible, to plan ahead and have all HR Template Transactions locally approved by 5pm on Friday Dec 3rd to ensure UCPC has time to commit them to the system prior to the PUM upgrade.
Leave transactions are considered critical transactions by UCPC and will have a cutoff of 12pm on 12/10. Remember all Leave Transactions, after receiving local approval, must also complete processing and approval by UCPC prior to their commitment to the system.
Future-dated transactions, locally approved by the cutoff date, will be included in the cutover.
At cutover, transactions in a pending status locally should remain in the system, but we cannot absolutely guarantee that outcome. We are asking that departments, if at all possible, clear their queues of all current transactions pending local approval, by 3pm on Dec 9.
UCPC has stated that any transactions approved locally by Dec 9th and still pending at UCPC, will remain and be processed Dec 13 or after. However, we recommend planning ahead when possible and having all HR Template Transactions locally approved by 5 pm on Friday, Dec 3rd to ensure UCPC has time to commit them to the system prior to the PUM upgrade.
YES! A manual recording by all locations, of transactions from Dec 13 – Dec 22, is part of UCPC's upgrade contingency plan. In a worst-case scenario, an older backup would need to be restored; locations might have to re-enter transactions from this time period. All Initiators/Approvers (HR & Funding) need plan to record data entered into UCPath during this timeframe.