What is UCPath?
UCPath is an initiative launched by the University of California to modernize and optimize our current human resource and payroll system, which is nearly 40 years old. We are leveraging modern technology and centralizing final acceptance of transactions to ensure consistency, data integrity and policy compliance across the UC system.
IN THE NEWS
POSITION MANAGEMENT
Get prepared for UCPath by becoming familiar with new concepts. Start off with Position Management – the functionality that binds job, funding and organizational details together.
UCPATH 101 ROADSHOW VIDEO
Didn't get to a Roadshow? Want to learn about UCPath? Check out our NEW Roadshow video and learn how to prepare for the transition.
DATA CONVERSION
Clean. Convert. Review. Repeat. Learn about the three-step data conversion cycle that will prepare PPS data for UCPath.
UCPath is rolling! One third of locations are live.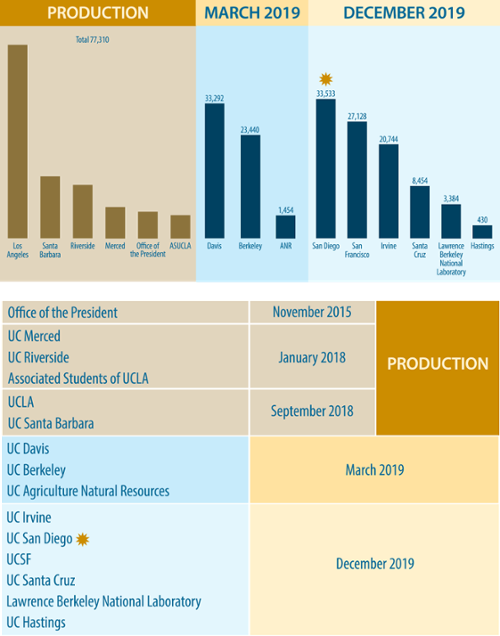 The UCPath Steering Committee and Executive Leadership Team unanimously approved the following changes to the remaining UCPath deployment schedule. Based on analysis and recommendations by the UCPath Project Management Office and Deployments 1 & 2 Subcommittees:
Deployment 1 locations, including UC Berkeley, UC Davis and UC ANR will deploy per the current plan in March 2019.
Deployment 2 implementation for UC San Diego, UC San Francisco, UC Santa Cruz, Lawrence Berkeley National Lab and UC Hastings will shift from September 2019 to December 2019.
UC Irvine will shift implementation from Deployment 1 (March 2019) to Deployment 2 (December 2019).
This brief interval (between September and December) will allow our campus much needed time to ensure our readiness for go-live. Conversion issues have plagued other campuses; the extra time will allow mitigation of risks associated with incorrect or incomplete data and reduce the risk of our testing activities overlapping with D1 go-live activities. Our campus readiness activities will continue at the pace determined by the September deployment timeline.
Please be assured that the UCPath Project Team will continuously monitor progress and keep you updated in a timely manner.
Check out where we've been
We hit the trail back in June 2018 and we are still rolling! Check our map for upcoming Roadshows near you and don't miss the chance to learn about UCPath and pick up an awesome free give-away. No registration required.
PPS CLEANUP UNDERWAY
To ensure conversion programs accurately convert UC San Diego's PPS data to UCPath data, cleanup is essential prior to deployment. Our UCPath Data Conversion Team is collaborating with individuals across campus as they track cleanup progress on 56 identified data items within our legacy systems and gather data that may reside outside PPS or legacy systems. On July 2018, the team started the execution of milestone mock conversion with validation testing.