Try the New UCPath Appointment Feature
December 3, 2020
Starting Dec. 7, 2020, all UC employees can schedule phone appointments with UCPath for assistance with submitted inquiries. Appointments are available Monday through Friday, 8 a.m. to 4 p.m. (PT). Schedule an appointment at a time that's convenient for you — no waiting required!
Appointments are a great idea for new employees who need help using UCPath for the first time, or who have questions about benefits enrollment. They're also great for employees who need help with lengthy or multiple inquiries.
(Please note that these appointments are not intended for those who are submitting a complex case on behalf of someone else and require production or IT support.)
How to make a UCPath appointment
Log in to UCPath Online
Make a note of your employee ID in the upper-right corner of the UCPath portal
Select "Ask UCPath" to Submit an Inquiry or view My Inquiries
After you submit a new inquiry or select the case number of an existing inquiry, the Case Details page appears. Make a note of the case number you need help with
Select "CLICK HERE TO REQUEST A CALLBACK APPOINTMENT" at the top of the page to schedule an appointment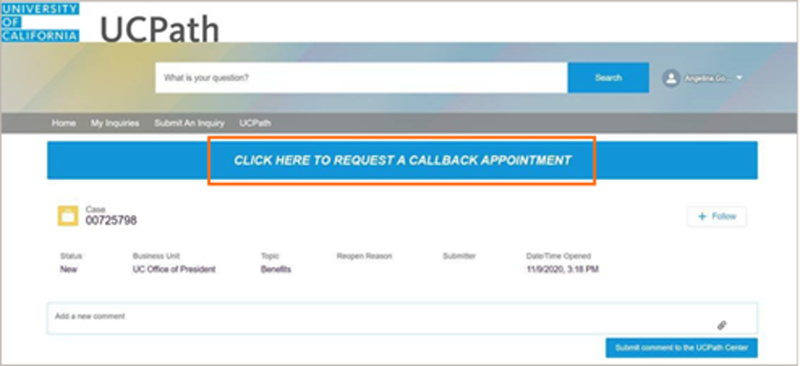 Enter your case and employee ID numbers
Once your appointment is scheduled, you will receive an appointment confirmation with a calendar attachment via email
A UCPath Employee Services associate will call you at the number you have provided at your appointment time
Training Resources
The following training materials will reflect these changes by the end of the day on December 7, 2020:
More information on UCPath appointments
If you have a question, please visit ucpath.universityofcalifornia.edu and click on "Ask UCPath Center" to submit an inquiry or call (855) 982-7284 to speak with an associate M-F between 8 a.m. – 5 p.m.