UCPath online for Employees
UCPath online gives employees 24/7 access to HR and Payroll information from their desktop, laptop, tablet, or mobile phone. Employees will be able to view their personal information, earnings statements, benefits, vacation and sick leave balances, as well as sign up for direct deposit, update tax withholdings, enroll in benefits, and more.
If you need login assistance contact the UCPath Center at  855-982-7284 (Monday - Friday: 8 am - 5 pm) to speak to an associate.
---
System-Wide Resources
---
UCPath online Employee Demo
---
UCPath online Demo para Empleados
A través de UCPath online puedes acceder a tu información personal 24 horas al día, los 7 días de la semana; desde tu computadora, teléfono celular, o tablet. En UCPath online tienes acceso a tus datos personales y la información de pagos; puedes inscribirte al servicio de depósito directo, actualizar la información de tus impuestos, verificar e inscribirte a tus beneficios, ver el balance de tiempo vacaciones y de enfermedad, y mucho más.
---
AYSO
If you started your employment with UC San Diego prior to the deployment of UCPath use AYSO (At Your Service Online) to access W2's and Earnings Statements issued prior to the June 1 conversion to UCPath. Update beneficiaries, access Fidelity, find links to other retirement resources here.
AYSO or UCPath online portal?
UCPath replaced many At Your Service Online (AYSO) functions and delivers mobile-friendly access to new features.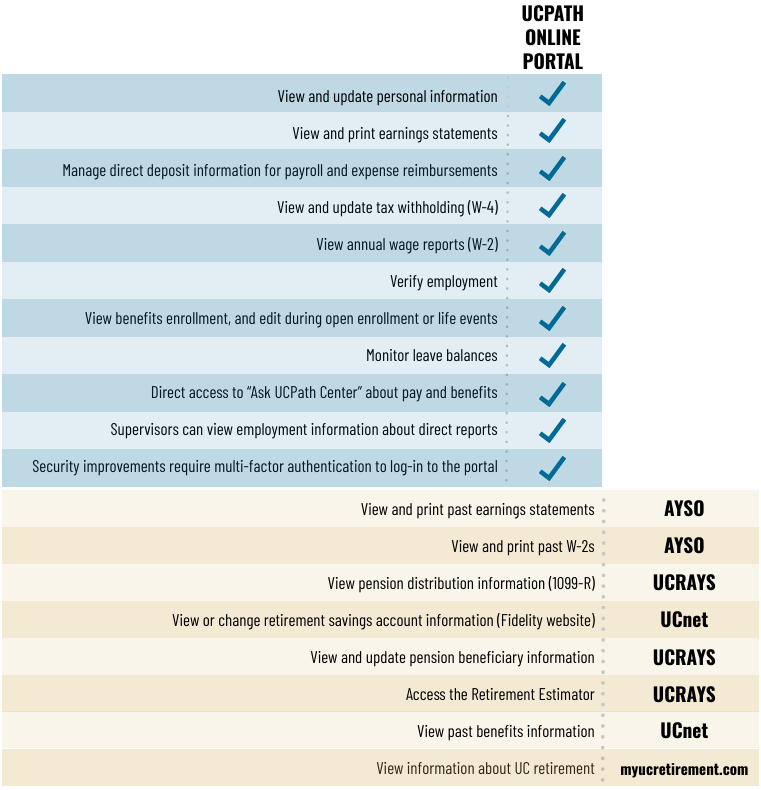 Click here to download this table.
Self-Service FAQs
Historical earnings statements and W2s (pre UCPath deployment in June 2020) are available on AYSO, for dates after that go to the UCPath online portal. Most other information and functionality is now housed in the UCPath online portal. Investment account information and benefits information is available on UCnet. Retirement info has moved to UCRAYS.
Users should contact our payroll office for login issues, missing statements, or questions regarding earnings or tax statements. Contact details can be found by clicking the Contact Us link at the bottom of the new AYSO Main Menu.
If the separation/termination/retirement took place BEFORE June 1, 2020
The employee/retiree does not have access to UCPath.
Employees can access their W-2s and other tax forms via AYSO.

For retirees, benefits including pension benefits continue to be administered through the Retirement Administration Service Center (RASC).

If the separation/termination/retirement took place AFTER June 1, 2020
The employee/retiree will have continued access via the UCPath Former Employee portal. Employees should ensure that a personal email address is included in their personal information on UCPath Online before they separate or retire. If they do, they will receive an email from UCPath Center prompting them to register. They will then access the Former Employee Portal by entering a personal email and the last 4 digits of their Social Security Number. If an employee did not have a personal email address entered into UCPath, they must contact UCPath Employee Services directly for assistance in registering for the Former Employee Portal.
If the employee does not set up an account within 18 months of separation/retirement the employee will have to contact UCPath at 855-982-7284 for assistance.
Former employees will have access for 36 months after effective date of termination
For more information visit UCPath Online for Former Employees on the UCnet website
Current employees can generate an auto-populated employment summary via UCPath by following this menu navigation:
Employee Actions> Income and Taxes> Verification of Employment> Generate Summary Report.
For employment verification using The Work Number follow the steps in this article How to Verify Employment for Current and Former UC San Diego Employees.
Employees can visit UCPath online and click on Personal Information Summary>DOB update request
A confirmation of submission email will be sent to the employee and another email will be sent to the employee upon approval or denial of their DOB update request.